Carl House is proud to have received so many astounding recent awards!
2012, 2013, 2014, 2015, 2016, 2017, 2018, 2019 "Best of Weddings" from The Knot Magazine
"Best of Gwinnett™: Wedding Venues"  from Guide to Gwinnett  13 years in a row
2017 "Best Wedding/Reception Venue" from Best of Atlanta Bridal Awards (BABA)
Elite Member since 2003 from Atlantabridal.com
2014, 2015, 2016, 2017, 2018 Preferred Vendor from Perfect Wedding Guide
2012, 2013, 2014, 2015, 2016, 2017, 2018, 2019 "Couples Choice Award" from Weddingwire.com
"Best of"  2012, 2013, 2014, 2015 and Gold Member  from Mywedding.com
"True Love 2012" from Mywedding.com
2016 Finalist for the "Pinnacle Small Business Award for Woman Owned Business" from the Gwinnett Chamber
2011 "Top Small Businesses"  in Atlanta and the Southeast by Business Leader Magazine
Awarded 2012, 2013 "Customer Satisfaction Award" presented by Talk of the Town News and Celebration Media, recognizing extraordinary customer service
 Reviews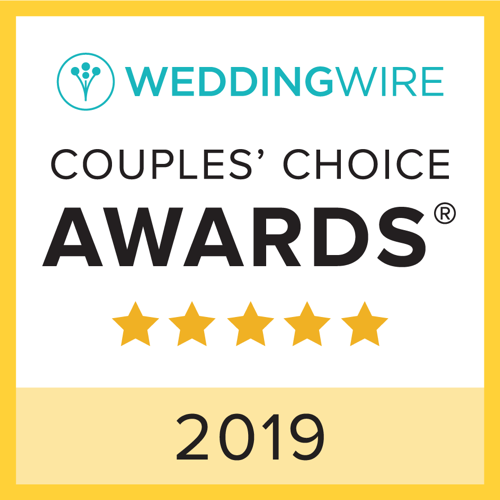 Click above Awards to see reviews. Additional reviews can be seen on Google.
"The Carl House made our wedding dream come true. I could write for hours about all the little things they did for us. They made the planning process very easy, their communication was always fast and professional. Nicole Benson is an awesome wedding planner who was just on point throughout the planning and the wedding day itself, while staying polite and friendly no matter how stressful it was. Lindy, the florist, patiently listened to all of our requests regarding decoration and flowers and realized it perfectly. Also, the service staff on our wedding day was wonderful! We are so glad we chose Carl House as our venue!"
Khary Thorton, Bride
"If you are looking for the most perfect southern charm, you MUST check out the Carl House! I traveled over 400 miles in the state of Georgia looking for a perfect venue that met all my criteria 1) Plantation House 2) Beautiful garden 3) Ceremony wouldn't be interrupted by noise 3) Romantic lighting 4) open bar 5) perfect day-of wedding coordinator (Nicole is the definition of the perfect wedding coordinator) I have to brag on Nicole here because our wedding would have been utter chaos without her! She is amazing! On top over every detail the entire night. She kept me sane when it came to the groomsman, she kept the night running smoothly, and made sure we had a chance to eat at some point throughout the evening. Every wedding venue needs a Nicole! I cannot say enough wonderful things about her. The Carl House is such a wonderful and beautiful place. You really need to put it on your list of venues to see before making your decision!"
Lauren Phillips, Bride
"My wedding was absolutely MAGICAL at the Carl House!! From the grounds, to the staff, to the decor and florals, to the food everything was to PERFECTION! Nicole and Indira were AMAZING making sure every detail of the wedding was taken care of so that I could just enjoy. Lindy did a fantastic capturing our vision for the florals. The food was delicious and the wait staff very professional. I always had a dream as to what my wedding would be like and the Carl House completely outdid my expectations. We received so many compliments from all guests regarding how beautiful the wedding and venue were. I cannot begin to thank everyone involved for making my dreams come true. I would recommend this amazing venue to anyone!! Thank you again Carl House!!!"
Jordan Wilkins, Bride
"I had an April 2017 wedding here and it was PHENOMENAL thanks to the Carl House. Nicole is the best wedding planner and knows exactly what she is doing. Lindy did an incredible job on the florals. Both of them are talented and they made sure everything was done exactly how I wanted it. People are STILL talking about the food and how gorgeous the wedding was. All of the vendors that the Carl House provides do an exceptional job. If you are interested in booking your wedding here… do it! I toured over 15 venues with my spouse and once we stepped foot into the Carl House we never looked back."
Christina and William Hulsey, Bride and Groom
"Our perfect day made possible by Carl House
Description: My husband and I chose the Carl House for our wedding venue for a couple of reasons. For starters, I grew up in the area, and passed the Carl House every day of my life on the way to and from school, and I always thought it was so beautiful. Then, after we toured this historic house, we knew it was the one for us. I love history and all things old and beautiful, and my husband loves the outdoors and natural things. So between the antique nature of the inside, plus the outdoor ceremony site and the gardens, this place was perfect. From the start, we knew we had made the right decision. We were so lucky to have Nicole as our wedding coordinator, and she truly made the wedding planning experience so much easier and enjoyable as she was always there to answer my many, many questions. The day of could not have been more smooth thanks to Nicole and her team, and the directions she gave. Speaking of the team, I was just beyond blown away by the service of the Carl House. Every one of the workers there had smiles on their faces and they served our wedding guests to the fullest. During dinner they walked around and took our guests dishes when they were finished, and they went above and beyond to pass out our cupcakes (we allowed each of our guests to choose their own cupcakes, so it was more difficult for them to be passed out). There was even someone standing outside by the ceremony site passing out water to our guests who arrived early! Amazing! The food was even better than it smelled too! We chose the pasta bar because I love pasta so much, and we were not disappointed! Those meatballs were the best I've ever had, and my husband loved the pesto sauce. There is always this joke that you will not eat at your own wedding because there is no time, but Nicole was not having that. She made sure that we were able to sit down and actually eat the delicious food that we chose. I think I could write a book about our wedding experience and how amazing that it was! It has been a couple weeks since our big day, and we still have guests telling us how amazing that our wedding was, and we have the Carl House to thank for that! If you are looking for a gorgeous, one stop, easy venue that is affordable and comes with everything you need (which REALLY makes the wedding planning so much more stress free) then look no further than the Carl House!"
Kaleigh Anh, Bride
"First of all, I have to say that my wedding was absolutely perfect!! From the weather to the venue, I couldn't have asked for a better day. Nicole Benson was the planner we worked with and she was AWESOME! I could not have asked for a better person to help get this altogether. She was super attentive and responsive! She provided a ton of suggestions and insight. There were a lot of areas that I had no clue what I wanted and she helped bridge gaps. The overall staff at Carl House was fantastic. Everyone was so great and helpful!! A big thanks to Angela for showing us the venue when we came the first time and making time for us the day after Christmas when we decided to book it. A HUGE thank you to Lindy, the in house florist, for preparing the flower arrangements for the wedding. They were absolutely breathtaking and not to mention affordable! She was so great to work with and took time to learn what I wanted. The food is prepared in house as well and is amazing! I would strongly suggest choosing Carl House as your wedding venue. It is a stunning venue and very affordable! They have packages that work for any bride and groom. You can tailor to whatever you want! The staff works very hard to make the day special. I am beyond ecstatic that I chose Carl House"
Alaina Clemons, Bride
"The Perfect Day – Our wedding at the Carl House was simply perfect! The Carl House staff was amazing to work with leading up to our wedding and the day of. They were attentive to every detail and made the day go by as smoothly as possible. On the big day, Nicole (their in-house coordinator) was on top of everything. She worked with our outside vendors including the large band and photographer to get them all set. The whole time, she made sure everything went perfectly so I didn't have to worry about it. Everyone says your wedding day is a blur, but I remember every detail of mine because I did not have to worry about the small things. Nicole made sure everyone got to the buffet, that the band played at the right time, that speeches and toasts were made, and that guests knew where to go for cocktail hour. She made sure our bags were packed into the limo at the end of the night. She made sure that we had a chance to eat our dinner without everyone crowding the bridal table. The Carl House staff took such great care of the whole bridal party. They brought us drinks and some of the appetizers while we were taking pictures so that we would not miss out on the amazing food. They had one person who took care of just my husband and I the whole night. And, the food was amazing! All of our guests said the food was great. We also held our rehearsal and rehearsal dinner at the Carl House, which was also perfect. Anna, the events manager, worked with us to make sure that the ballroom had completely different setups and feelings for both days so that our family and bridal party did not feel that they were having the same dinner experience twice. And again, the food was wicked awesome! I could go on and on about how wonderful the Carl House staff and Nicole were. Everything was perfect and I would not have changed a thing. It was the wedding my husband and I pictured it to be and we were not stressed at all the whole day"
Maggie Maddox, Bride
"Perfect Wedding Venue! – The Carl House was a wonderful venue for our wedding and reception! The house and grounds are beautiful and carefully maintained. There are always colorful flowers in bloom and there were even tons of butterflies in some of the bushes for our October wedding. The food was amazing and the floral arrangements were everything I could have hoped for. The staff was just outstanding! Lindy, in their floral department, was as sweet as she could be and went above and beyond to make our arrangements and decorations just perfect! Nicole, our coordinator, was on top of every detail and made the whole day run as smooth as silk. She was absolutely amazing and really helped to keep me calm and carefree throughout the whole process. We got so many compliments on how delicious the food was (especially the gouda mac & cheese station) and just how perfectly the whole night played out. I can't thank the Carl House team enough on the wonderful job they did to make our wedding day magical!"
Carrie Vick, Bride
"Charm, Elegance and Servitude – My husband and I looked and looked for our wedding venue. Many of the venues we saw had hidden costs and the staff acted as if they were "above us." When we found the Carl House, we were thrilled by the professionalism and straightforward business approach. Nicole Benson, our wedding coordinator from the Carl House, was truly one of the most valuable individuals planning our wedding and masterminding the day of activities. She is very detail oriented, takes fantastic notes, and makes each and every one of her brides feel AMAZING. She even grabbed me to put extra lip gloss on so that I would look great in my photos. Our food was phenomenal!! All of our guests (which included celiac, diabetic, and vegetarians) were impressed by the food. The drinks were served quickly during the cocktail hour and there was no lacking in pours. The grounds are always well kept and the charm of the house speaks for its self. As I descended the grand staircase to meet my groom, I felt every bit the blushing bride. Nicole, BB, and the entire Carl House team don't let a single detail slip and go the extra mile to make your day everything that you dream it could be. I wish I could go back and relive our wedding over and over. It was PERFECT and I wouldn't have changed a thing. Highly recommend this venue any bride."
Stephanie Bonnin, Bride
"Wow! Our event at the Carl House was amazing!  The entire facility is beautiful. Everything was done extremely professional. The food was delicious, and the staff were polite and attentive.  The layout was perfect for our group. The staff made sure there was plenty of room even for such a large group.  I've been to several venues, but this would have to be my favorite."
Tracey Pritchard, Head of School, Hebron Christian Academy
"Catering with Style – Carl House provided off-site catering for my wedding for 130 guests on October 4th.  From the very beginning of my experience with them, they were the perfect mix of professionalism and kindness.  BB and Kimberly couldn't have been more helpful and made the entire process as painless as possible. We received a number of comments on the fine quality of the food and the willingness of the staff to make everything 'just right'.  Thank you for a job well done!"
Sarah Kate Price, Bride
"We had the perfect September wedding at Carl House! Not only is the venue absolutely breathtaking inside and out, but it's actually a very affordable venue. Included in the price is a wedding planner, who meets with you 90 days prior, 3 weeks prior and is with you during the rehearsal and during your entire wedding. The Carl House staff, especially our wedding planner Nicole, were absolutely amazing! They made sure the event ran seamlessly and treated our family and friends with so much kindness and professionalism. I received so many compliments on my wedding – especially the food! If you're looking for a top notch venue, look no farther than Carl House."
Macrae Fuller, Bride
"I just had to let you know how perfect everything was at the wedding of our daughter this past Saturday. The wedding director ran the entire show so flawlessly. I have no idea how she was able to be in so many places at the same time, but that is how it appeared. If a question arose, she was there, not only with the answer but usually off to fix what we were asking about or to get us something we were requesting. She made our entire day completely stress-free! The rest of your staff was equally marvelous. They were friendly, helpful, and worked with tireless energy to make sure all was done to keep the wedding party and guests happy and comfortable. I don't even know how to describe the food. Delicious does not do it justice but will have to do. I can't tell you how many guests commented on how wonderful everything tasted! Thank you so much to you and your staff for making this very joyful day, the wedding of our daughter, a truly beautiful experience!"
Debbie Williamson, Mother of the Bride
"Carl House was brilliant!!! They did a fantastic job and I couldn't have asked for a more perfect wedding or venue!!! We had tons of comments from guests about how beautiful and perfect Carl House was for our wedding. The food was excellent and we enjoyed every minute of our wedding!!!! I highly, highly, highly recommend Carl House and all of the staff there!!!"
Amanda Kunz, Bride
"The Carl House staff is detail-oriented, warm and friendly. They made my wedding day dreams come true! My friends and I can't stop talking about how beautiful the wedding was!"
Leslie Harrison, Bride
"I had my daughter's wedding at Carl House on August 14th. It was simply amazing. Aside from the gorgeous venue, the staff treated us as though we were royalty! During the set up our every request was granted, and we had one of those "specialty" table settings. During the event itself a staff member was always close at hand. I don't know the staff to guest ratio but it was gracious. Everything was pristine, the food was EXCELLENT. Simply put…it was worth every penny. Thank you Carl House!"
Sharon Alexander, Mother of the Bride
"Our guests continue to tell us how wonderful everything was and that it was the most beautiful wedding they've ever seen. I'd say we made the perfect choice for the most important day of our lives! Thank you so much, Carl House!!!"
Kevin and Mandy Williams, Bride and Groom
"What can you say about a wedding venue that charges modest rates yet delivers an extravaganza? All you have to say is BB Webb and Carl House. My daughter selected the Carl House and my wife selected the wedding plan. After the wedding, you could not have convinced me that we didn't spend a $100,000 … superior photographer, videographer, location, cake, food and wedding planner!!!! A five star event magical event … words could never adequately capture the memories created by BB and her staff!"
John Hunt, Father of the Bride 2009
"BB Webb, is one of the most gracious, talented, creative, professional ladies I know! Carl House is exquisite in every way, BB is a perfectionist so every detail is taken care of, every event I have attended has exceeded expectations, the food, the service and of course the decor brings you to a place of complete satisfaction. Carl House is elegant and so is Ms. Webb, they go hand in hand!"
Auburn Mayor, Linda Blechinger
"I wanted to thank you and your staff for my wonderful wedding this past weekend. Each and every one of you are extremely talented, detail oriented, and strive for perfection. I cannot tell you how pleased my husband and I are with how smooth everything went and our guests have not stopped talking. The venue, the food, the service was nothing but perfect. Kandice was absolutely fabulous and seems to be wonder-woman. I don't know how she does it without their being three of her! Having met with you and your team, I am proud to be a Carl House Bride!"
Mary Austin Palmer, Bride
"We both believe that having our wedding at Carl House was the best decision we made in the wedding process. We gave them our lofty ideas and they turned everything into a reality. With their enthusiasm and attention to detail, they made our wedding day a flawless and blessed event."
Kristin and Jeremy Bloodworth, Bride and Groom
"I would definitely recommend Carl House for any event! Thanks again to everyone!"
Debbie Ward, Mother of the Bride
"BB Webb…"A Woman You Must Meet"…her dynamic personality and spirit for life is both engaging and addicting. If you have not heard her speak, that is a shame. Put it on your "To Do" list, "Bucket" list, whatever..just do it! And the Carl House…there is no way to put into words how special this venue is. You can tell that BB has put her heart and soul into it. Whether it is a wedding or corporate event, you MUST check it out!"
Kim Crowder, Account Executive, Cooper-Atlanta Transportation
"I finally have recovered enough to send you a note of sincere appreciation… Your entire team did an outstanding job. What a great group you have working for you too! They were all very attentive in every aspect and reaching out to us to make sure we had everything we needed. I especially wanted to tell you that I thought Kandice did a great job…during our final meeting with you all, Kandice showed great confidence and was thorough in her questions and documenting everything so I became more at ease. She followed through on all of my questions and continued to update and reach out to me during the final two weeks as well. The little details with the candy, bubble bottles, coloring book and crayons were displayed so perfectly that I could not have been more pleased. Please extend our gratitude to your team!
'BB, you have created a fabulous place for Weddings. I now know why bride's have voted The Carl House as their favorite place to have a wedding. It was a perfect night for our families! Thank you."
Jane Gleason, Mother of the Bride and Sr. Director Trade Shows & Events, McKesson Provider Technologies
"Carl House was the perfect setting for our ceremony and reception. The beautiful landscaping made a perfect setting for our outside ceremony and for pictures and the food was delicious! My favorite detail about Carl House is the spacious ballroom. It is large enough to accommodate all of your guests, without separating them into different rooms. We recommend Carl House for your special day!"
Kimberly Smith, Bride
"To Kandice and Debbie: Thanks for an outstanding event! We have received many gracious compliments on every aspect of Marti's wedding at the Carl House. Thank you so much for your significant part in making it happen."
Linda Pirkle, Mother of the Bride
"The Carl House is a magnificent achievement, typical of BB Webb's abilities. I became familiar with BB when she graciously let the Wedding Television Network make Carl House the center for several of its pilot television shows. BB exudes warmth and graciousness while creating an atmosphere that is both elegant for a wedding celebration and charming for business parties and dinners."
Tim Ulmer, Television Producer
"It is seldom in one's professional career that a minister encounters such an elegant setting for a wedding as Carl House! Everything about the arrangements, the ambiance of Carl House, and the impeccable planning and execution of the reception, as well as the handling of the wedding rehearsal, made for a most memorable and impressive time of celebration. I've previously served on the official clergy listing for weddings for many years at the five star Boca Raton Club in Boca Raton, Florida as well as several other exclusive resorts. Out of all of those impressive venues, I can honestly say that Carl House and the entire staff make for the 'créme de la créme' of weddings."
Officiant, Rev. George Callahan
"I remember in the beginning when I talked with several vendors they would all say that Carl House was the best. Now I know why everyone was so complimentary! My guests raved about the wedding and said it was the best wedding food they had ever had. So thank you all very much! "
The Pattillos, Family of the Bride
"The vision that Owner BB Webb has for making each Carl House guest feel special and for turning every event into a life-long memorable occasion is obvious the moment you drive through their gates. As a Raving Fan of Carl House, I am proud to bring my clients and their colleagues into this wonderful facility where I know every need will be met."
Lee Huffman, Executive Partner, Action COACH Business Coaching
"Everything was absolutely wonderful. We were so pleased with the entire staff and how quickly you responded to our needs. It was a beautiful evening!"
Kim Cooke, Mother of the Bride
"My wedding and reception at Carl House were perfect. Not only was the staff amazing, but our Wedding Director took all my ideas, 'went above and beyond,' and exceeded my expectations. Our guests continue to tell us how wonderful everything was and that it was the most beautiful wedding they've ever seen! Thank you so much, Carl House!!!"
Kevin and Mandy Williams, Bride and Groom
"The Carl House is the ONLY place I would schedule my corporate events for my executive-level Fortune 500 clientele. If you want to impress your executive colleagues with first-class elegance, then you have to see the Carl House's exquisite and breathtaking ballroom. The Carl House is perfect for a corporate retreat for company conferences, training's, board meetings, retirement parties, and corporate entertaining. If your executive team needs a peaceful meeting place without the noise and distractions of the city, then the Carl House is the only place to send them! BB has trained her staff to provide you and your guests with the Southern Hospitality that you expect and deserve for all of your corporate events and Holiday Extravaganzas! Call today to make your reservations today before all the dates are reserved."
Bobbie Rogers, CEO & Founder, Allegiance Employment, Inc.
"Carl House Owner BB Webb is a breath of fresh air! She positively influences every person she meets through her bubbly personality, her passion and enthusiasm for each of her business endeavors and her encouraging, successful and winning spirit. I highly recommend BB as a hospitality provider, friend, business partner, and in any capacity as your life will be better for knowing her."
Carol Donovan, Sales & Marketing Coordinator Road Atlanta
"I was so pleased at the Bridal Show that I participated in at the Carl House in March. I had never been to the Carl House and it was absolutely breathtaking! The decor, the grounds, were so well taken care of. The staff was helpful in the setting up and breakdown of my area and the way they had the vendors arranged made it easy for brides to walk around and see everyone. I look forward to participating again soon!"
Candace, Carl House Vendor Partner with Candies by Candace